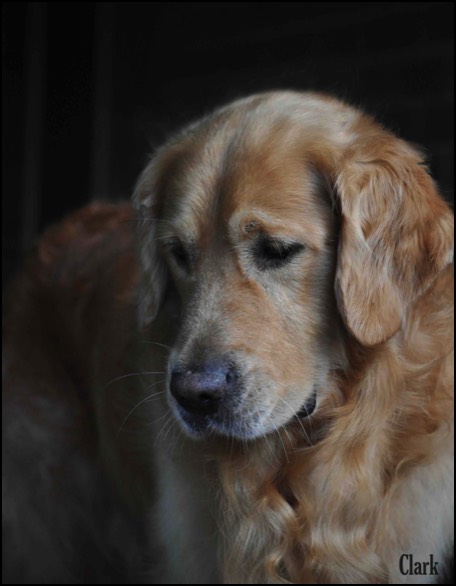 Ch Goldfleece Knock on Wood (AI)

UK Sh Ch Stanroph Endelwood Nicolas (UK) x BISS Ch Golfleece Muscatel. Dearest Willow was a favourite and very special boy. Bred by Ann Smith (Goldfeece) Willow was a gentle boy who loved nothing better than to patrol the borders at home.

In the Show ring he won Best in Speciality Shows and multiple runner up Best in Specialty Show.
At Naragold we aim to breed golden retrievers that are sound in mind and body.

We only breed with dogs that have had relevant hereditary testing and happy outgoing typical Golden Retriever temperaments.

our Goldens are our house pets that enjoy our home and Queensland lifestyle. we expect our puppy owners to provide a similar environment for our puppies.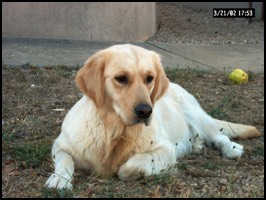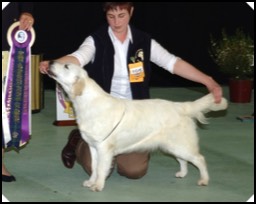 I have grown up with Golden Retrievers… However in 1995 I started to enjoy Showing and breeding this beautiful breed.

I have been very fortunate to access some of the best bloodlines in the world.

The history of some of the beautiful Golden retrievers which have influenced our current dogs our outlined below.



Our true foundation bitch at Naragold. Magic came to us as beautiful young girl from Goldfleece Golden Retrievers. She soon made her presence felt and for many years was the matriarch at Naragold. While she had a lovely happy go lucky temperament she didn't enjoy the showring.

Magic gave me my first homebred champion "Ch Naragold Merlin" from her first litter to Ch Erinderry Firecracker of Glenavis (Imp UK).

Her second litter to Ch Stanroph Shared Assets produced Naragold Wayward Angel.

I will always be eternally grateful for my little bit of Magic...





BISS Aust Ch Goldfleece Muscatel
My other foundation bitch was Goldfleece Muscatel 'Ellie' also from Goldfleece Golden Retrievers.

Ellie had a beautiful fun loving temperament and loved to show how she could float around the showring. Linebred to Eng. Sh Ch and Aust Ch Stanroph Shogun, she inherited his beautiful ground covering movement.

This was demonstrated from her critique from Mr Nils Molin (Swd) who awarded her Best In Show at 2003 Golden Retriever Club of Victoria Championship Show in his critique.

1st - E Clark's Goldfleece Muscatel is a bitch with very good angulation and a very good expression. Correct proportions. And her way of moving, she moved superbly. She took longer steps than anyone else with no effort. Also I liked her very much and couldn't help that I for the second time this day started to think of the best of breed. Well I had to find out later.

Ellie produced a number of outstanding progeny… Most notably:

by Eng Sh Stanroph Endelwood Nicolas (UK)

BISS Ch Goldfleece Knock on Wood (AI)
Goldfleece Ashwood - taken far too young and just points shy of her Ch title.

by Eng Sh Ch Stanroph So It Had To Be (UK)

Aust Ch Naragold Petaluma (AI)
Aust Ch Naragold Hill of Grace (AI) - Specialty RCC winner

I an so grateful to Ann Smith (Golfleece) for provinging such a wonderful foundation.

BISS Aust Ch Goldfleece Knock on Wood (AI)
Willow stayed with us from the first litter of Aust Ch Goldfleece Muscatel and was owned in partnership with Ann Smith.

Willow has consistently won at all breeds but it was under special tis judges that he really shone.

His wins included:

1st Intermediate Dog Class at the 2006 at Golden Retriever National Championship Show, Tasmania, under Mrs Barbara Mills (UK)

Best in Show at the Queensland Golden Retriever Club of Queensland Championship Show under Ms Erica Ward (WA/UK)

Dog Challenge and RU BIS at the Queensland Golden Retriever Club of Queensland Championship show under Mrs Barbara Moore (SA)

Dog Challenge and RU BIS at the Queensland Golden retriever Club of Queensland Championship Show under Mr Wayne Pearson (Vic)

Willow is a real clown and is currently enjoying his retirement at Naragold.